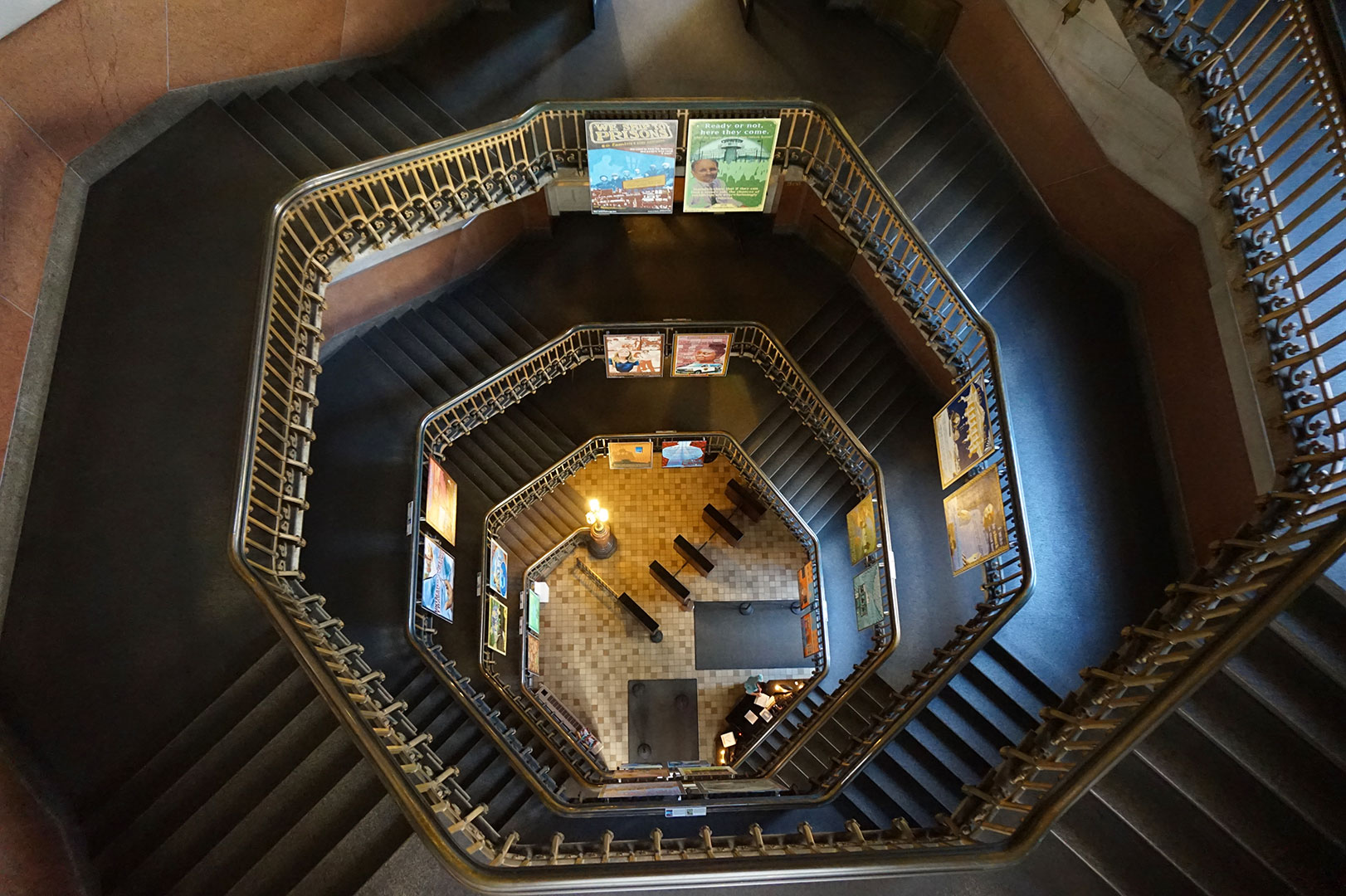 During 2014 I embarked on a ambitious interview based project on the timely topic of Mass Incarceration in the United States.

Beyond the Walls is an expansive multi-site project that came about through a series of interviews I conducted with victims, victim advocates, lawyers, Prison Chaplains, people currently incarcerated, those serving life sentences, families of the incarcerated, returning citizens, activists, police, superintendents, volunteers, students, Criminal Justice educators, and volunteers, politicians, and city officials.

Those interviews became the basis of the design for 35 individual mural panels that address aspects of these issues within mass incarceration.

 
In depth excerpts from all the interviews, the designs and painted murals all can be found at http://beyondthewall.muralarts.org, a website which I maintain which serves as a living brief for the project, giving insight into the people behind the interviews, and their work within the justice system.
The panels and project are organized under the hashtag #beyondthewallproject . Be a part of the ongoing dialogue.
The list and scope of interviewees was carefully curated between myself and the men of my SCI Graterford mural class. We wanted to connect with a group of individuals who had a nuanced understanding of the issues, and who could speak to different areas within our system.
The overall plan is to distribute these panels citywide, and affix them to buildings along major corridors, but as of this writing, the project has made the rounds throughout the city in 4 separate exhibitions.
This photo is from the opening event at the Philadelphia Art Alliance held this past January.
At the closing of the exhibit there was a speaking engagement featuring Russel Craig, a returning citizen, Marsha Levick of the Juvenile Law Center, and David Rudovsky a Civil Rights Attorney.
The exhibit then moved to Drexel University's Nesbitt Hall in the Connelly Center Gallery. In this exhibit I had the opportunity to display 9 panels, some never before seen, and connect viewers to some of the content on the website through use of 3 large flatscreen monitors.
Both events lasted 6 weeks.
4 panels are currently on display at Eastern State Penitentiary as a part of their annual artists exhibit.
The panels sit in the ballfield of the Penitentiary, next to the large metal graph Eastern State had build that, among other things, gives an accurate representation of the rise in incarceration rates over the last century.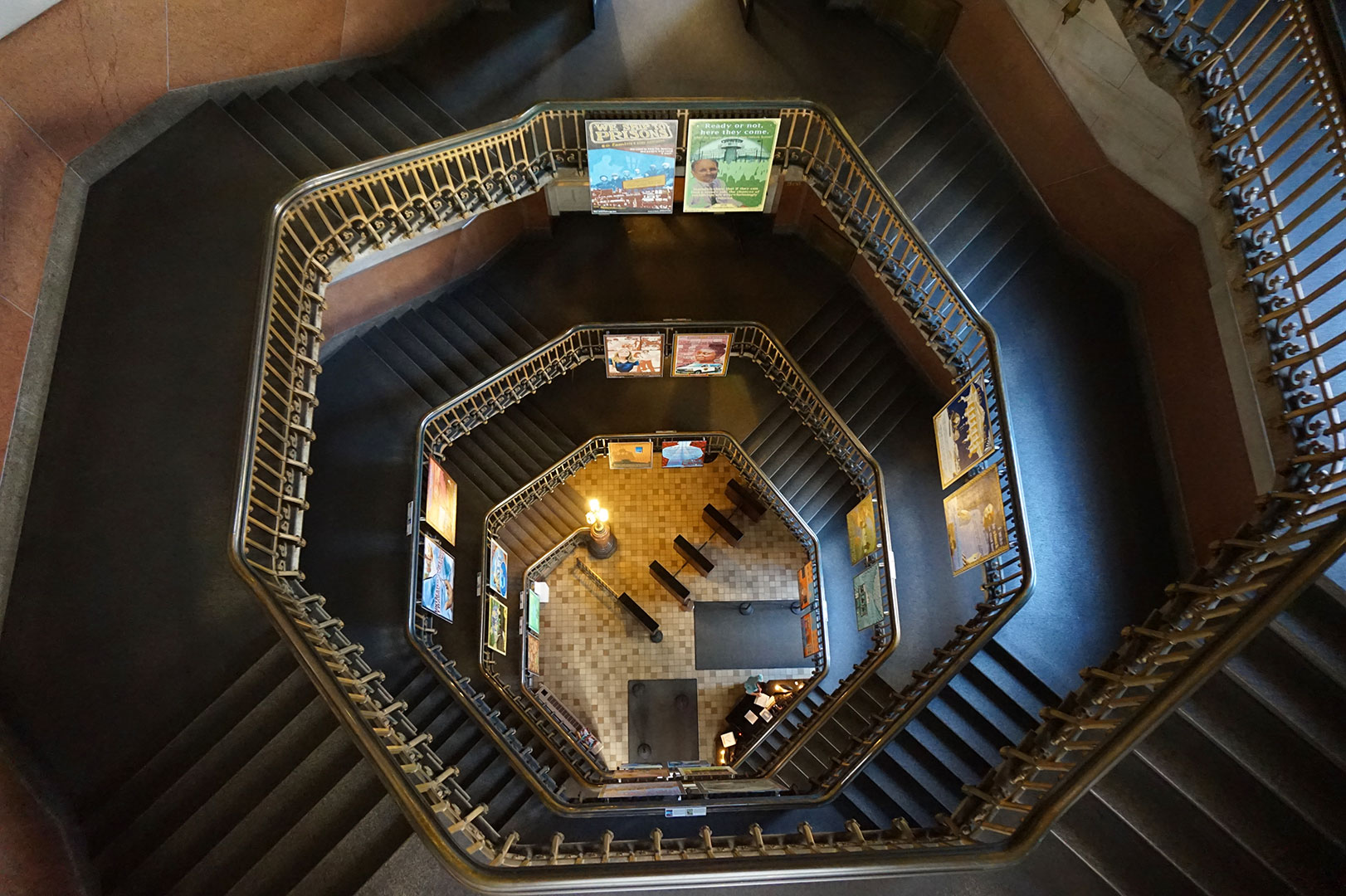 In the month of October there was an exciting exhibit of 26 panels in the Visitor's Entrance of Philadelphia's City Hall. The panels were affixed to the railings on display along the first 4 floors of City Hall. This was the largest showing of the projects 35 panels to date.
Placards were printed that offer further quotes and more information on each individual. QR codes link the viewer to audio, video, websites, resources, and newspaper articles.
The rest of this slideshow will provide a more in depth look at some of the interviewees and their finished paintings.
In the last 30 years, the incarceration rate in the U.S. increased more than 400%. We need a shift in public consciousness on how we look at prisoners and those who have committed crimes. Its a culture of dehumanization.
-Charlie Ryes,
Criminal Justice Student
Our policy makers, our decision makers, our law makers are scared at this point of being considered soft on crime. They are reluctant to vote in a way that could connect them to a future campaign that makes them look too soft. That's not everybody, and I don't mean it as a blanket statement because there are legislators that are willing to take up the cause. But recently we've seen knee jerk reactions where one situation will change what's going on in the prison system and it's hard to get beyond that. Especially when you're looking at your future career and what the politics might look like.
We had terrible, horrible situations with Willie Horton back in the 80's and Mud Man Simon in the 90's. Each decade seems to have their own atrocious example that shuts down certain humane sectors of the prison system that otherwise provide some hope or opportunities. That just gets worse and worse. Recently we saw the passage of the Revicitmization Act, a bill focused on preventing Mumia Abu Jamal from speaking out, based on a graduation speech he gave to a college in Vermont based on their request. It's the quickest legislation I've ever seen enacted. In two weeks' time, this bill passed the PA General Assembly and the governor signed off on it. But there are real questions as to free speech; there are real questions as to who this will impact- will it curtail Mumia or is this possibly going to curtail any former offender? Clearly, no one wants to re-victimize victims and that's not the intent, but there has to be a happy medium. There has to be a way that people can still speak and express themselves per the constitution. There has to be a way people can still talk about success stories if nothing else, to show those in prison that they can turn their lives around and get a second chance to do things better. There are challenges pending and it will be tied up in the courts. While that takes place, however, the law may end up muzzling current and former offenders, returning citizens, and preventing free speech.
Ann Schwartzman- Exec Director of PA Prison Society
We have so many more women going to prison now than we ever did before. (646% increase between 1980-2010. 1.5x the rate of men.) Recidivism numbers are increasing because they are not getting the mental health and trauma help they need.
Women's issues are different from those of men.
Incarceration without rehabilitation is futile.
Pamela Superville - RISE
http://rise.phila.gov/
What we have now, we branded and read into the prison system but to make reentry of individuals coming back to society part and parcel of what a good jail / corrections facility should do. You can't have them being divorced, the minute someone walks into jail the minute someone gets a sentence, that's the minute they need to start preparing to get back out.

Commissioner Ramsey has it absolutely right that you have to put the community first to get true policing. But even more so, you have to be willing to do what Commissioner Giorla said what we have to do. Jails need to be in the position of putting themselves out of business. It is a different model than isolation, degradation, and security. It doesn't work, that model, the Quaker penitentiary model, what most corrections have been based on since it was started here literally on 23rd and Fairmount. That model was a worldwide phenomenon when it was started but it is one of the things that Philadelphia exported to the rest of the world that we found out really doesn't work well.
What really needs to happen is that there has to be more of a basis of people working together to correct and to keep the person that needs the extra support to stay in community. You want to make good penance you don't want to go to a penitentiary . You don't want to sit down and say that you were correcting people to live within the four walls of an institution and make them better prisoners . You want to be able to support people in their walk that they have as people going forward.

Everett Gillison- Mayor's Chief of Staff for the City of Philadelphia.
It's not just about the physical injury.

So many victims feel unsafe for years. They struggle with being in public.
They are always looking over their shoulder wondering if they are going to be victimized again.
Mary Catherine Lowery- Victims' Services
"In the Hebrew Bible, justice is used not only as a term to describe the right distributions of things, but justice is about a saving intervention. So justice is done for vulnerable and oppressed peoples. The people who get justice are the widows and orphans. There is a sense in which justice and mercy are very similar because justice is always acting on behalf of those in need. Justice restores God's original intentions for the world. Justice is fundamentally restorative. It's about healing relationships.

If we understand justice, not just as a word but in the sense of a virtue, justice is an attribute that makes people relate to everyone well. It's a virtue of right relating. If a crime happens, and we want to see that justice is done, that's not about slapping a prison sentence on to someone. "Justice is done" would mean that people would have to become more just. If justice is a virtue, you can't determine whether there has been justice by the fact that a person got convicted and received a 20-50 year sentence. Are relationships becoming righted? That's a process, and that's going to take time. You have to look at what's happening to that person during their punishment, you have to take a look at what's happening in the community, how it is taking responsibility.

Prisons should be all about creating opportunities for these men and women to develop the virtue of justice. We are taking this drastic step of excluding them from the community and fragmenting really vulnerable relationships with their family. We are doing that because we think that they need to have a reorientation in how they relate to others."

Kathryn Getek Soltis- Ph.D./Director, Center for Peace and Justice Education
Assistant Professor of Christian Ethics Villinova University
We should follow the model within the addiction community.
There is a lot of support in 12 step organizations. They say "I can't change the past, but I'm responsible for changing today and going forward."
People do not shy away from those individuals or shut them down because of their history.
Louis Giorla,
Commissioner of Phila Prisons.
"When I was in prison, I realized what my situation was. Those guys standing around acting like they are still on the corner, not planning for their release... These guys have 3 years, 5 years, thats going to come and their not preparing. They don't realize the situation. You can't go with nothing and expect to survive. Its detrimental to your whole life and your family.

Art saved my life. I could have gotten caught up in whatever. I stayed antisocial, and my art was my everything, my friend, my family, because I didn't get visits, the art was always there. I get out and its there. Its my occupation, Im getting noticed, slowly but surely. Its life changing, its really serious, and its really powerful. "

Russell- Artist/Returning Citizen
African American men have been acculturated to "keep it movin".
No matter what happens.
"I don't know my father, I've been locked up, but I'm just gonna keep it movin and never really deal with all this. I've seen my homie get shot and killed, I've seen people getting raped, I've seen my mother getting abused...
...but you know, I'm good. I'm cool. Just give me a job."
A job is not the answer to all that. There's real TRAUMA that needs to be dealt with in men.
Cameron Holmes- R.I.S.E.
I was in SHOCK on that bus.
This is really happening. This is a slave ship on wheels.
Russel,
Artist/Returning Citizen
Click here to read the Pittsburgh Post Gazette article referenced in the piece.
Pennsylvania has more than 5,100 inmates serving life without parole.
What kind of a threat is a person once they reach a certain age? There ARE people on the inside that have changed. No longer a danger to the community. Yet they are there for life.
Mike Burlingame
Prison Fellowship Ministries
"Criminal Justice especially in the media, focusses on the effect rather than the cause. There is this promotion of the idea of an evil act rather than looking at the root cause of whats happening. Mainly pertaining to social services, and a lack of education or a lack of resources, if we really got to the root of THAT, we would be deterring a lot of future occurrences.

Whats going to save you money? When you are talking to politicians, and practitioners, they want to see numbers. They want results now, they want to see change now. I want to use education as a deterrent of crime, really shifting criminal justice money into the education system because if you look at the prison population, the majority don't even have a high school diploma. Although you can't say its a causational relationship there is definitely some correlation between the two.

There is this cycle of poverty, the question of how to break that is extremely difficult, and it seems that its so difficult that no one wants to deal with it."

Abigail- PHD Candidate in Criminal Justice
It was supposed to be a 15 minute project about the Philly jails overcrowding.

It became more about the fuction of prisons in general. How they tie into racism, stereotypes, and the perception of who is a criminal.
The new narrative was the new Jim Crow, a new system of racial and social control. Philadelphia jails and communities as an example of a nationwide problem.
Matt Pillischer
Documentary Filmmaker/Lawyer/Organizer
For more information on Matt's documentary Broken on All Sides click here.
"Pushed forward under a comprehensive philosophy. We teach. We organize. We make sure people are serious about their lives. Our teaching is not for everybody. Unless you are determined to never again be incarcerated, don't even walk through our door. We're about never riding in police cars. never being handcuffed. Never doing anything that can bring the police and the system to have power over our lives. And we're also into transforming our community and atoning for the things in our past, but more importantly, we do it for the future and the future of our children, that they might not walk in our footsteps and have a better life. "

J Jondhi Harrell- The Center for Returning Citizens

http://tcrcphilly.org/
There is this stigma on you, as an ex-offender.
You're a felon, you go to apply for a job and doors get slammed in your face. You have to work extra hard.
I have to be productive for today AND for all the years that I missed.
Amira Mohammed
Artist/Student/Returning Citizen
"We are all grown ass men in there. No one is going to hold your hand and take you through workshops, groups, and programs. If you want to change, lead a different life, if you want to try and think differently and educate yourself, there's things available, thats the reality of it. Its not the ideal place to learn and grow, but that what we got to work with, and if you really want it, you are going to work with what you got and find a way.

As long as I'm taking steps forward, then thats what I am supposed to be doing. Its crazy how things have been working out for me now, but at the same time, Im reaching out and putting myself in these positions, but I'm being met halfway. "

Jason- Artist/ Returning Citizen
Mediation.
If there was a mistake, you have an opportunity to repair that harm.
An opportunity to turn your life in a better direction.

Shakeya Foreman,
Good Shepherd Mediation Program
Restorative Justice Specialist

http://www.phillymediators.org/
 
We can be a lot more rational about how we deal with drug offenders.

More treatment and programs, much less imprisonment.

In my lifetime, we reduced smoking by 50%. We didnt do it by locking people up, or making threats.

We did it through education, by treating it as a health problem.

David Rodovsky,
Civil Rights Attorney
"It was unimaginable in 1970, when this building closed, that we would incarcerate more than 700 people per 100,000. No one else on earth is doing it now. No one has ever done it.

If we let out HALF of the prisoners in this state, we would still have a system that was 400% more punitive than it was in 1970."

Sean Kelley- Director of Public Programming Eastern State Penitentiary
"Hurt People, Hurt People. The perception is, if you're punished, you wont do it anymore, But thats not the case.

It doesn't work for everybody. We should move towards healing people.

Captain Altovise Love- Craighead
Victim Services Unit, Philadelphia Police Dept.
The "kids for cash" scandal unfolded in 2008 over judicial kickbacks at the Luzerne County Court of Common Pleas in Wilkes-Barre, Pennsylvania. Two judges, President Judge Mark Ciavarella and Senior Judge Michael Conahan, were accused of accepting money from Robert Mericle, builder of two private, for-profit juvenile facilities, in return for contracting with the facilities and imposing harsh sentences on juveniles brought before their courts to increase the number of inmates in the detention centers.- Wikipedia

"We ultimately succeeded in getting the PA Supreme Court to order that all their records be expunged and all the adjudications be dismissed with prejudice. So that was a remedy that we got for almost 2500 kids over a period of 5 years who had appeared before Ciavarella when the money was going back and forth.

When we think about over incarceration, the Luzerne County story is very much a part of that story. There were kids who were sent away for 90 days, or a year or multiple years for contact that wasn't even violent contact, they just didn't warrant that kind of attention.

What happened in Luzerne County is a micro cosmic example of what happens everyday around the country, which is, we pile on the resources of the system on kids that are more likely to be harmed than helped by what is a very correctional driven intervention."

Marsha Levick- Juvenile Law Center
http://www.jlc.org/
"Everybody has a back story but nobody takes the time to get to know it. When I meet people I tell them, I've been to prison, I'm on parole. Don't just look at me and think that you know who I am because of what I look like. You have no idea about my story. You have no idea what type of background is behind me. What made me who I am or what lead me there in the first place. I'm smart and I'm not disrespectful and I know how to talk to people. I'm not the type of person you think you'd find in prison but I ended up there."

Amira- Artist/Returning Citizen
I got the opportunity to interview John Wetzel, PA Secretary of Corrections, as a part of this project. I was grateful for his time. We discussed his motives for introducing a series of TEDX talks in the state prison system. A huge progressive move, casting light into the institution, giving the men an unprecedented chance to be heard.
I was fortunate enough to be present for the event at Graterford state prison . Two of the men in my class spoke and performed.. The QR code takes you to a talk by Luis "Suave" Gonzalez, one of the men. Suave is a Juvenile lifer, I've known him for the past 12 years of his incarceration. Here is the link
https://youtu.be/HFpc1NP8jh4
"If you look at when the tough on crime movement happened, if you like at the legislation that caused mass incarceration, and when it passed, It's in the wake of the Black Power Movement. It's in the wake of the Civil Rights Movement. It's in the wake of people of color building power and a lot of shifts in the US that threatened people who have the power.

I think a lot of the policies that have created and perpetuated mass incarceration came out racism, came out of fear of communities of color that are perpetuated by politicians and the media. But if you look at young people being tried as adults, those laws were passed in the 90's in large part due to this idea of the "super predator" and the central park jogger case who turned out NOT to be the 5 young men who were coerced into confessing. That was all sort of media fed hysteria about people of color, and you still see it today.

If you look at the three people who were charged with the assault in Center City a few weeks ago, the three young white people from Bucks County, for a week and a half they weren't arrested because the police were getting their side of the story. There were stories in the paper about their lawyers arranging interviews and reports from the police about how they wanted to do a thorough investigation and make sure that they had all of the facts and I never seen that with any of the young people I work with. They don't take a few weeks to make sure they're arresting the right person. If it's a 15 year old person of color, I mean, that just doesn't happen. And the bails posted were half the amount.

I work with three young women who were arrested for assault on a Temple Student recently and they were each given 100,000 dollar bails and they were 15 and 16 years old. But the details of the assault were not that different from the details of the 3 in center city and they clearly have a far less ability to pay a 100,000 dollar bail than the 3 people arrested in the center city assault."

Sarah,
Activist, Prison Volunteer
Crystal- from Ride and Rebuild, an independent van service connecting Philadelphia families with loved ones incarcerated in State Correctional Institutions throughout PA.

http://www.rideandrebuild.com/
"We're seeing more of a shift in this country. Crime has become less of a political issue, and many on the left and the right agree that we incarcerate too many people. But even with the modest reductions in mass incarceration over the last few years, it will take us another 80 years at the current rate just to get back to where we were in 1975 when we had a prison population similar to the rest of the industrialized world.

I think we have got to do something much more dramatic. California just voted proposition 47 that is going to reduce prison sentences, and that state has made significant changes in its "three strikes" law. Some of the federal changes are important also, especially with the changes in drug sentences. Some states have had some great success. New York and New Jersey, for example, have both significantly reduced their prison populations and at the same time, reduced crime. In other words, we do not have to engage in mass incarceration to provide safe communities."

David Rudovsky- Civil Rights Attorney
 
"My son was involved in selling drugs and he was murdered by the young man he was supposedly selling drugs for. I want to tell the story that, that was not all of who he was. He did not deserve to be shot in the back 7 times, in the street, like an animal. He had hopes dreams and desires. What he was involved in was wrong. He could have been arrested. But to bemurdered in the street was not the answer.

What I tell people is that there is never closure, you just learn to live with the murder. Part of learning to live with it is being educated about what you've gone through. To be educated about grief, to be educated about trauma. Because murder is not a natural death. It's not like someone had an illness and died. It's sudden.

The trauma is really important for people to be educated about because you can feel like you are going insane. You have flashbacks. People try to cope by drinking, drugging, eating to much. Anything to try to fill the emptiness and nothing works. When I went to the Grief Assistance Program they educated me about trauma. That was the most empowering moment because up until then I had no control of anything. "

"What I found really naive about me, working in a prison in the drug and alcohol unit, is that I had no concept of what was going on in the street. I felt like as long as, in my home, I taught my children right from wrong, I showed them love, taught them manners, educated them, was involved in their lives, kept them busy. I had no concept of the PULL of the streets, I had no concept of the culture. My son was working for a remodeling business and he was dirty when he came home. He was being made fun of when he came home. I didn't know how black boys are boxed in. And if they step out of the box they are a target. You could play basketball, football, sell drugs, be a thug, but you're not allowed mainstream things that other people do. You're a target. You could never say, Oh I want to be a writer or a journalist or I write poetry. "

Victoria Greene - Founder of E.M.I.R. Every Murder is Real

http://emirphilly.org/
"I wasn't anti social before I went in. When I went in I stayed to myself so much, I lived and created my own world, I formed friendships with select people, but at the same time I was very insular, and heavily guarded. I was always on high alert. That made me distrustful of people I didn't know in a way that I never was before. SO when I came home, I was very reserved, and learned to speak to people again, and open myself up and be kind of vulnerable in a way that you just can't be in there. If you want to be successful you have to open yourself up again, you can't stay walled off or else when there is a problem, the chance of you going to talk to someone is low, and the chance of doing what you know to solve whatever problem it is you're facing is high, because you don't seek help in other people. And a lot of people don't even have that support available. Thats why when a lot of people come home, a lot of people fail."

Jesse- Artist/Returning Citizen

http://beyondthewall.muralarts.org/
Everett Gillison
Chief of Staff to the Mayor of the City of Philadelphia/
Attorney/Social Worker
The way Philadelphia works, there are facility chaplains assigned to one place and then there are system chaplains. I have done both including 3 1/2 years simultaneously.

I've always worked with those who were marginalized and I've always had an interest in corrections. For me corrections really blends together poverty, mental health, addiction, a system that's really quite broken, people who have committed crimes when they were young that wasn't a planned kind of thing. It was impulsive.

Theft has a consequence. One of the people I worked with pick pocketed the victim took a step back, fell, broke his hip and three months later died. So he went from a robbery to a murder charge. Another woman was trying to steal something from somebody's purse. "No big deal." It is a big deal. So that's the victim part where I will challenge people who are incarcerated to say ' What seems like little crimes are not to the victims'. Now they're afraid to go out. They're afraid to trust. What you did I understand you were desperate, you were on drugs, but it's no excuse because I ultimately want people to come back to accepting responsibility for their actions and to see that their actions have consequences.

I hope to be able to empower others to do what I'm doing. I do training and group work. I would love to be able to train people on how to work systems. How to help people who want to know advocacy. What to do and pass on the knowledge, that's my desire now.

Phyllis Taylor - Prison Chaplain/ Victims' Advocate
The letters that we get from prisons are what make us different from the normal bookstores. We have this one on one, and I believe that's because we care. Just being an ear sometimes is more than enough, especially to those who don't have relatives and family. Once you go to prison everyone forgets about you. I think that's why we're doing so well, because we give them the attention that's needed. Not even the letter, just sending the books. Books change a lot of people's lives. Some people read a book and they're inspired to write a book. That's someone's spirit on paper. This is how the world keeps evolving. When you visit wealthy people, one of the biggest things in their house is their library. That is the treasure, the library. Most people that are wealthy or well off are highly educated. Self educated as well. Educating yourself is empowering yourself more because no one is pushing you to do it, it's you.

I think some of the best writers are in prison because first and foremost, they don't have the distractions of what's going on out here so they get time to really go deep within themselves. You're really left to what your imagination can put together because you're only getting what's happening in the streets through letters or people coming in. I think because they have so much time alone they're able to be more creative than a person that has to get their child ready for school and go to work and then write on the side. It's just a one on one between the pen and your mind.

Most people that are in prison, they live on their past experiences, their memory. People that are out are infatuated with prison. When we first started shipping to prisons I got a lot of flack for the way that I promote. I'm not trying to glorify prison I'm just trying to help the people that we need to help. Trying to connect the families with the people that are in there. We ship to prisons to keep the families connected.

Hakim Hopkins (w red hat)-
Black and Nobel Books
Broad and Erie Sts.

http://blackandnobel.com/
Prison is not what you see on TV. Most of our inmates are good people who made a bad decision. The answer is not to lock everyone up and throw away the key. The majority of our offenders come back out to the community. My question to the community is how do you want this individual released? Do we want to give them every tool necessary to succeed? In order to do that, we need community help and outreach. Just incarcerating someone is not the answer. We need faith based programming. We need help from outside agencies to be part of the reentry process. There are individuals that we need to keep locked up but they are a small percentage, it is not the majority. The majority are coming out. How do we want them to come out?
We can only provide so much. That's why we need that community outreach to help. Inmates need an outlet. If they can't find a job and all of a sudden lose a loved one and they no longer have a place to stay, what do we do with them? Locking them back up again is not the answer. Especially if they didn't commit another crime. "
-Superintendent Wenerowicz- SCI Graterford Prison
You build walls, being in prison. To protect yourself, you build barriers, keeping people out. I'm still trying to knock them down.
Jason
Returning Citizen
Kathryn Getek Soltis
Ph.D./Director, Center for Peace and Justice Education Assistant Professor of Christian Ethics Villinova University
My assistant Briana and I taking some photos, marking the halfway point of the project. At this point we had completed half of the 35 panels.

Studio shot by Mike Reali